Robin Lively
Robin loves to paint and is almost always thinking about painting and colors and tones.  Painting is always a learning experience for her.  A chance to experiment and play.  Robin primarily paints landscapes, and is especially drawn to paint big skies. 
She moved from Houston many years ago to be in the country where there are chances every day to be inspired by beautiful sunrises and sunsets, storms passing through and stars at night.  Robin is working on rebuilding an inventory of paintings after the devastation of her home and studio in the Bastrop County Complex Fire of 2011.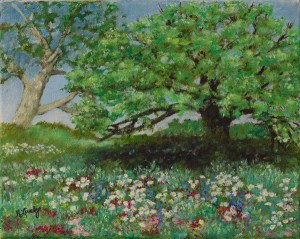 Other things she makes for Mosaic include hand-printed cards and aprons. 
Read more about Robin at RobinLively.com