About
Mosaic Art & Home
Established in 2012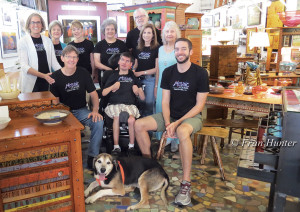 In September 2011, a major wildfire swept through Bastrop County, burning 34,000 acres and destroying 1,691 homes, making it the most destructive wildfire in Texas history. Jeri and Walter Winslett lost their home. The next step was a big one. They moved into Smithville, and with the help of David and Nena Marsh, opened a store on Main Street that sells the eclectic furniture of David Marsh, as well as the paintings, prints, pottery, and dolls of wonderful local artists.
218 Main St. Smithville, TX
Hours
**CLOSED JUNE 25-28, 2017**
If you need to buy something and just can't wait call Walter at (512) 762-0006 to schedule an appointment.
Monday 10:00 am – 5:00 pm
Tuesday Closed
Wednesday 10:00 am – 5:00 pm
Thursday 10:00 am – 5:00 pm
Friday 10:00 am – 5:00 pm
Saturday 10:00 am – 5:00 pm
Sunday 12:00–5:00 pm
If you have any questions, ideas, or requests
please e-mail us at sales@mosaicartandhome.com